Accommodation
The house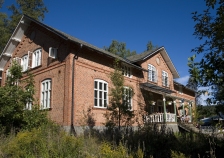 The house built around 1900 has been renovated and turned into a cosy group lodge. The old classrooms on the ground floor and the charming bedrooms upstairs give the house its unique character and creates a welcoming atmosphere.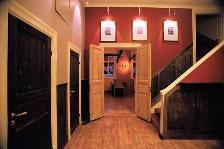 On the ground floor you will find a fully equipped kitchen, dining room (max. 40 people), lounge and restroom. On the first floor there are eight bedrooms with shower/WC, a small common room with TV, sauna and one extra shower room.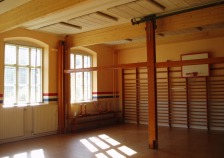 The old gym is a good place for various indoor acitivities such as gymnastics, meditation, tai chi, yoga, dancing and music rehearsals.
The bedrooms

Each bedroom is individually decorated, inspired by different subjects like literature, biologie, sports … etc. There are three double and four 4-bed-rooms (22 beds in total), all of them with shower and WC, some with bunk beds.

The "White House"
For groups larger than 22 people there is an additional building belonging to Stömne Lodge. It is only 100 m away from the main building and offers space for 10 people. There are four double and two single rooms, each with shower and WC.

The kitchen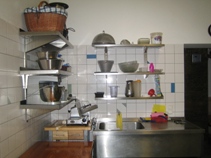 The kitchen is fully equiped with cooker, fridge and freezer, dish washer, coffee machine and all other standard equipement that is needed. The kitchen is directly connected to the large dining room (max. 40 persons).


facilities outside
In front of the main house there is a roofed terrace with about 20 sitting places and an open terrace with another 20 sitting places. On the 4000 m² yard we have a volleyball court and a fire place for barbeques.